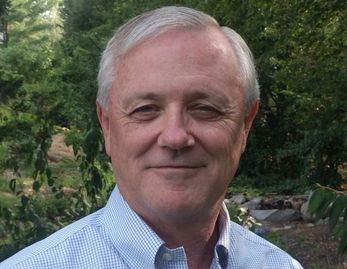 My name is Bob Ainsworth, and I am Harry Bartlett's parents.
Harry Bartlett is a combination of Sherlock Holmes and Robin Hood, a detective solving fraud cases and returning stolen money to the victim. Harry knows numbers, financial statements, and comes from the business world. He is a unique character that creates a new genre, the financial crimes detective, similar to Patricia Cornwell introducing the forensic detective or Robin Cook the medical detective or Arthur Conan Doyle the observant detective.
A word about Harry Bartlett's conception. Technically, he started while I was commuting to Boston and filled a spiral notebook with my chicken scrawl made worse by uneven train track beds. The deciphered, typed result was 150 double-spaced pages that turned into
A Fraud of the Tidal Kind,
the second book in the series. In a backwards kind of way, I wrote the introductory story,
A Fraud of the Nantucket Kind,
after the second book to answer the questions "Who is Harry and where did he come from?"
He truly came to life about five years ago after I accepted a job that required a three day-a-week stayover in Stamford. With time to kill and my retirement rapidly approaching, I took long walks considering how I'd fill 24 unstructured hours. Sleep and an afternoon nap would take 10 hours; only 14 to go. Continuing as a part-time teacher, golf, and lan occasional consulting gig seemed like good possibilities. But teaching demanded summer classes, my back needed surgery, and consulting gigs aren't that easy to find; I never had my dad's selling ability.
There was another possibility. Tell civic organizations and Seniors the same fraud stories my students enjoyed. But most speakers have a lifetime of experiences to draw on; I'd uncovered several scams, but I wasn't an expert. That thought kept percolating until during another one of my frequent walks, and I had an idea.
Expand my speeches concept. Create a character, a fraud detective who'd solve fraud crimes and recover stolen money.
I did some research and learned one valuable lesson: write what you know. I know accounting and can tell a good fraud story. I set the stories in New England where I've lived since college. But the biggest breakthrough was to write about people I've known. The heroes are loosely based on people I admired, and the bad guys are people at the other end of the admiration spectrum.
A bit about me. I discovered two fraud cases: a payroll bookkeeper overpaying her husband and son, and a senior executive overbooking revenue to increase his bonus. I came on the scene after two other frauds were uncovered: a controller stealing cash sales to pay for a man-cave and a bookkeeper wiring herself money to pay for drugs.
Before creating mystery stories, I worked as a Controller and Chief Financial Officer in the publishing industry. My parents were a pharmaceutical salesman and a schoolteacher. My mom saved ledger paper I used to track my part-time jobs; accounting seemed to be where I was headed. After graduating from Boston College with a BS in Accounting and Northeastern University with an MBA, I got my CPA and worked in corporate jobs for forty years. Along the way, my wife and I had three boys, and I taught accounting at colleges to help pay the bills.
There have been writing attempts since a sophomore core English course a billion years ago. The first was an Accounting textbook meant for a one or two-semester course. I generated fifty or so pages and then stopped. The second attempt was more fun but not much more productive: 100 pages of a fiction story about a fraud detective. There was no process, no story outline, and no character descriptions. It ended abruptly when the adrenaline rush petered out.
Some acknowledgments.
After taking courses, joining writing groups, working with a coach, and asking friends to read the manuscripts I've written and rewritten over a dozen times, I can't name everyone who've helped me. But the only reason for my improvement is due to their critiques and encouragement, especially with the first efforts that were, in hindsight, crap.
David Baldacci was kind enough to respond to an email with great advice: keep writing and read all the time. Not surprisingly, he was right.
Finally, a thanks to Earl Stanley Gardner, the Perry Mason creator. Great books and a tv show that hooked me as a kid.
I hope you have as much fun reading the stories as I have writing them. And if you have a story in you, write it down.
Bob Ainsworth